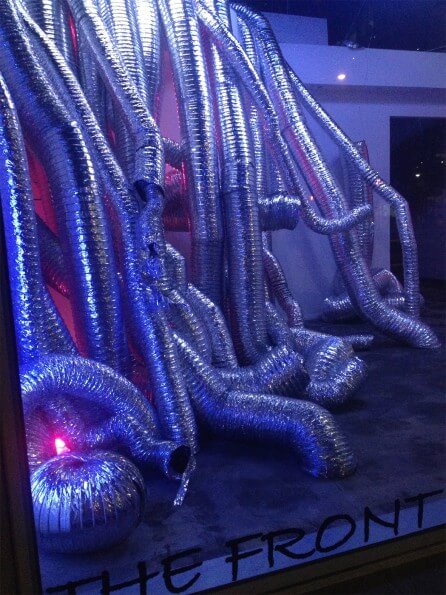 The Front is a unique art space dedicated to large scale art installation in the front space, and participatory and collaborative ideas in the back space.
What have been some of the best things about having a space to test your idea?
Putting large-scale art installation in a big window so that people passing by can see it day and night.
Getting positive feedback from passers-by and the other tenants.
Exposure to a different art audience for the artists
Bringing a diverse group of people down to Docklands.
Being rewarded by seeing it work. And then being able to let the idea evolve to include other people and ideas.
Taking some of the projects out of the space to engage with the Docklands community.
Forming a team of people and seeing them run with the project and get benefit from being part of the project.
Finding we are growing an identity that becomes seen as part of the community down here.
The challenges we have faced mean we are growing skills.
Giving back to the community.
While participating in the Renew program, what have been some of the discoveries you've made in your area?
The best Vietnamese food is on Rakia Way. REAL Vietnamese food at such bargain prices.
If you're really broke go to the IGA and browse their bainmarie. A quiche for $2.95, a muffin for $1.80 and fruit for 50 cents.
Gloria Jeans has the friendliest staff.
You can get handbags and luggage at bargain prices at Harbourtown.
The best coffee is at The Foodcourt, extra friendly service by Nico.
The walk to the Bolte Bridge is great and once you get under the bridge there's a great walk around the back to the Wheel and the dinosaur.
The water side is under appreciated and that's a shame.
What other creative enterprises are you inspired by?
The Foodcourt and D11 are very interesting. Also, Andria at the Clothing project is inspiring. Her project training refugees is fantastic.
What is your website, store address or where else we can find you?
We don't have a website, instead we rely upon facebook. Find us at www.facebook.com/TheFront424
The page talks about our work and our community, referencing interesting information we come across. We see it as a place to build our Docklands identity and the Docklands Spaces Project as an inclusive art precinct.
Visit The Front at 424 Docklands Drive, Docklands, Melbourne