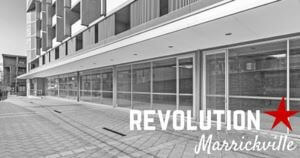 Revolution Marrickville is a new joint initiative of Renew Australia, the lessor and Clearpoint.
We have seven (yep, seven!) spaces becoming available that need people with the ability to be open at least five days per week, have more than one person involved and have an exciting activation plan!
Ideally we are seeking an active business or project that goes above and beyond just selling their products or service that can bring people in through their teachings, exhibitions, studios, workshops, or impromptu events. We are looking for people who know their stuff and are ready to jump in and be part of the program.
This Expression of Interest round will close on Friday, 17 June 2016.
Should you require further information on this Expression of Interest or how the program works, please email the Revolution Marrickville Project Manager at marrickville@renewaustralia.org
Engaged by the lessor and Clearpoint, Revolution Marrickville is an initiative by Renew Australia that aims to temporarily fill vacant spaces in 359 Illawarra Road with artisans, cultural projects and community groups.