We are looking for a new Project Manager for our Renew Fitzroy Street initiative.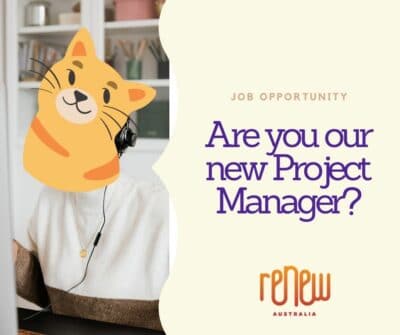 Renew Fitzroy Street is an initiative lead by national social enterprise 'Renew Australia'. The program activates vacant commercial spaces by incubating short-term uses with creative enterprises and independent local businesses on rent-free basis via a rolling 30-day license. The program is co-funding by The City of Port Phillip and the Fitzroy Street Traders Association.
About the role
Reporting to the Renew Australia Manager, the Renew Fitzroy Street Project Manager will have the important responsibility of managing the roll out and delivery of the Renew Fitzroy Street initiative.
Position type and Employment period
The Renew Fitzroy Street Project Manager will be offered a fixed-term permanent part-time contract for an initial period of 10 months, with the potential to extend with a revised job description. Working hours will be variable; however, we are looking for an experienced project manager with the capacity and flexibility to work up to 15 to 22.5 hours per week. Applicants with a background in real estate or property management with a passion for Fitzroy Street and the Arts will be highly regarded.
This job will be a combination of working from home and visiting site (Fitzroy Street, St Kilda).
Key roles and responsibilities:
1. Project planning and service delivery
Prepare and report to the delegated scope of work, budget, and schedule, coordinate delivery schedule, and monitor performance to meet relevant milestones.
Contribute to the development and implementation of internal project planning documentation, external deliverables, operating procedures and collaborative processes, in coordination with the management team.
Manage project delivery through established "Renew" model processes, as mentored by the management team.
2. Communications management, marketing and research
Develop and maintain Renew Fitzroy Street contacts database and in-house project files, in liaison with Renew Australia team.
Write and provide reporting to funding partners and Renew Australia on project progress.
Contribute to operational, deliverable and evaluation reports as required.
Contribute to the development of a marketing plan, including target groups, schedule, and campaign content.
Coordinate ongoing promotional activity for Renew Fitzroy Street (via the website, social media, and EDM campaigns) and develop new marketing opportunities as required.
3. Engagement and onsite project management
Act as the first point of contact for Renew Fitzroy Street, responding to enquiries and ensure all formal documentation for media, applicants, participants, property owners, and funding partners, etc. is provided efficiently.
Seek vacant property and advocate for the Renew Initiative
Broker and execute license agreements with property owners and agents
Coordinate property inspections.
Facilitate the negotiation and execution of license and participation agreements between property owners and selected participants, and provide intermediary property management service to supervise the temporary entry, fit-out, use and exit of each premise.
Does this sound like you?
Application will be received only through this link here
Applications close Sunday 27th September  5pm