Sarah Tracton is a multidisciplinary fine artist and bespoke lighting designer. With a Bachelor of Fine Arts in Ceramics at the National Art School, East Sydney, she has built a reputation for using innovative ceramic techniques to create bespoke handcrafted lighting that is an intersection of fine art, craft and functional design. Having gained recognition as a trained fine artist with mastery over her materials, Sarah has refined a niche clay slip poured on plaster slab technique. She fuses innovative cordless technologies with traditional craft processes to create lighting that emits exquisitely luminous and ethereal outcomes when paired with LEDs.
"My process involves intensive hours spent in the studio immersed in iridescent coloured stains, glazes, paper pulp, brushes. mixers and porcelain slip, then fired to 1280 degrees.I undertake Kintsugi technique, where porcelain that has broken during firing is repaired with glue and gold leaf. This process of repair, recycle and reuse involves the creative reworking of usually discarded objects, transforming what was a broken piece of trash into a functional light with golden illumination."
Sarah's porcelain lighting is now on display at 77 Fitzroy street. She is a current Good Design Award Winner, AMP Tomorrow Maker and VIVID Design + Decor Finalist. In 2020, Sarah achieved a Thrive grant in 2020 to develop professional skills for creative projects, supported by the City of Port Phillip. Awarded by Creative Victoria, Sarah is the recipient of the 2021 Creators Fund, which supports groundbreaking artists to undertake experimentation and development over an intense period of R&D.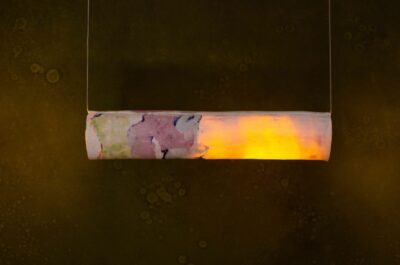 Website & gallery: http://www.sarahtracton.com/
Socials: @sarahtracton
Contact – studio@sarahtracton.com