Renew Fitzroy Street is now in its third year! 
Renew Australia is delighted to announce that Renew Fitzroy Street is continuing on for a third year thanks to our funding partners – the City of Port Phillip and the Fitzroy Street Business Association.
In 2020, Renew Australia, partnered with Port Phillip Council and Fitzroy Street Business Association, launching a new initiative in St Kilda to activate vacant spaces on Fitzroy Street.
Renew Fitzroy Street works with the community and property owners to make vacant properties available for use by creative projects, and provide opportunities for local creative industries to trial their ideas.
Angela Simons from Renew Australia said, "After a successful scoping project, where the team met with real estate agents, owners and traders to gauge their support, it has been great to see this project come to life. The scoping study found that a Renew Fitzroy Street initiative was of great interest to local stakeholders, such as property owners, local agents, the local business association and Council, particularly in response to the pressure on small businesses and main streets to stay vibrant post COVID-19."
The initiative has already helped bring new ideas and businesses to otherwise vacant spaces, as well as increased activity, foot traffic and engagement for the area. It has also provided the opportunity for startup and creative enterprises to have visible space in an iconic Melbourne location.
You can find an updated list of active participants on our digital map here.
"Melbourne's Iconic Fitzroy Street with its  long varied history is ingrained in this city's soul. Renew, with fresh ideas and blood, complements existing businesses forging a place in locals and visitors' hearts alike. Renew has already positively impacted how the Street is perceived by visitors and traders alike. There is excitement and positivity around Fitzroy Street once again."  David Blakely, President of the FSBA.
Renew Australia works closely with Council, property owners and agents to place creative enterprises and/or projects into currently vacant spaces while ensuring the property is looked after during the placement of long-term tenants. If you are an agent or owner with vacant space on Fitzroy Street, the Renew team would love to hear from you!
'What a terrific initiative Renew is. We're all aware empty shops are no good for residents, surrounding businesses, property owners and councils. The program gives great visibility and opportunity to emerging businesses, services, or creative installations that wouldn't otherwise have this opportunity. And offers property owners peace of mind to have an occupied property, whilst feeling they are making a contribution to assisting emerging businesses and improving the amenity of the area." Property Owner, Fitzroy Street
The Renew Fitzroy Street project has been a wonderful achievement for Renew Australia. You can check out the executive summary of our annual report by clicking this link: RFS 2022 Executive Summary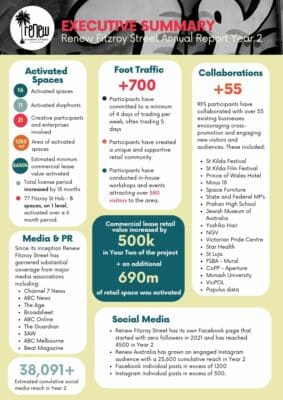 Anyone interested in finding out more should contact Renew Australia on 0466 389 577 or via email to fitzroystreet@renewaustralia.org.