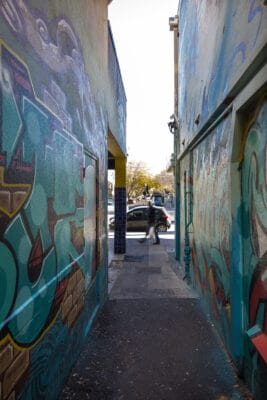 Renew Australia partners with Port Phillip Council and Fitzroy Street
Business Association to launch a new initiative in St Kilda!
Port Phillip Council and Fitzroy Street Business Association have embarked on a project with
Renew Australia to activate the currently vacant spaces on Fitzroy Street.
Port Phillip Council Mayor Bernadene Voss said the injection of new ideas would breathe new
life into the ever-evolving precinct.
"Our partnership with Renew Australia is just one of the ways we're supporting our local
business community and we're excited about the opportunities the project will bring to Fitzroy
Street. Working with existing businesses in the precinct, Renew Australia will give residents
and visitors alike another great reason to visit Fitzroy Street," Cr Voss said.
Angela Simons from Renew Australia said, "After a successful scoping project, where the
team met with real estate agents, owners and traders to gauge their support, it is great to see
this project come to life. The scoping study found that a Renew Fitzroy Street initiative was of
great interest to local stakeholders, such as property owners, local agents, the local business
association and Council, particularly in response to the pressure on small businesses and
main streets to stay vibrant post COVID-19."
"This initiative will help bring new ideas and businesses to otherwise vacant space, with a
view to increase activity, foot traffic and engagement with the area. It also provides the
opportunity for startup and creative enterprises to have visible space in an iconic Melbourne
location to trial their business practice."
David Blakeley, President of Fitzroy Street Business Association said,
"Melbourne's Iconic
Fitzroy Street's long varied history is ingrained in this city's soul. Renew, with fresh ideas and
blood, shall complement existing businesses forging a place in locals and visitors' hearts
alike".
Using the successful model that was first pioneered in Newcastle, Australia, Renew Fitzroy
Street will work with the community and property owners to make vacant properties available
for use by creative projects, and provide opportunities for local creative industries to trial their
ideas. The expression of interest for program participants will be loaded to the Renew
Australia website in the coming weeks.
Renew Australia will work closely with Council, property owners and agents to place creative
enterprises and/or projects into currently vacant spaces; helping to make the street active,
while ensuring the property is looked after during the placement of long-term tenants. If you
are an agent or owner with vacant space on Fitzroy Street, the Renew team would love to
hear from you!
As the Renew Australia team continue the background work securing properties (further details to follow,) we have now opened our Expression of Interest for project participants.Please find the on the top of the page (right hand corner). We recommend you review the 'readiness checklist' attached to the EoI to understand some of the things to consider opening a space, in addition to reviewing a little bit about Renew Australia here.
Anyone interested in finding out more should contact Renew Australia on 0466 389 577 or via
email to fitzroystreet@renewaustralia.org
www.renewaustralia.org