St Kilda Arts Collective is an art and design showroom, focus on bringing local artwork and workshops to the St Kilda community. Ran by little local business' Sam, Pete & Rus.
Sam Sagginelli / Flo & CO Melbourne
Sam, the founder of Flo & Co, is an Australian freelance events florist and stylist. Her work celebrates the bounty of seasonal, colourful, locally grown florals and foliages, specially sourcing produce from farms located around Melbourne and beyond.
Sam aims to educate event clients and retail customers on the importance of supporting local Australian flower growers and choosing naturally dried florals over chemically preserved, dyed products.
Sam currently hosts flower arrangement workshops at St Kilda Artworks Collective 4/63 Fitzroy Street, head over to www.floand.co for more details or if you'd like a local flower delivery, you can email Sam on info@floand.co
Photo credit : Sam Sagginelli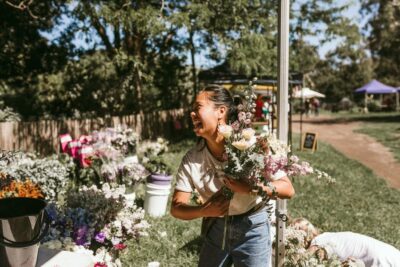 Rus Kitchin
Rus Kitchin creates visual worlds that inhabit painting, digital and public art works. Imbuing these with a sense of forlorn beauty, mythological odysseys and notions of rescue, retrieval and resuscitation. His practice occupies a space that is informed by his ongoing anthropological and interdisciplinary exploration. Post traveling to Central America and Egypt in the 90's, and his ongoing research since then, he juxtaposes ideas about human centric authorship in our own Western cultural narratives with those of traditional Shamanic based cultures. Peoples' who traditionally present animals, plants, nature, and people as co-authors of our existence.
You can meet Rus and see his artwork collection (Symbolic Thought, Symbolic Thinker) housed at St Kilda Artworks Collective
Or if you'd like to get in touch, you can email on ruskitchin11@gmail.com
Credit: Photography, Images 3, 4, 5 & 7 – Fabrizio Photography
Location: Artworks Studios, 37a Greeves Street, St Kilda.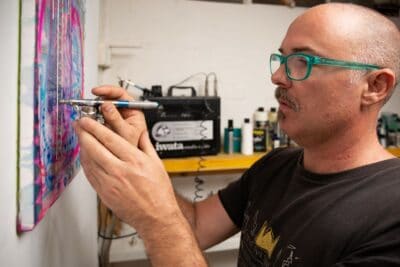 Peter Williams / Mr. Macrame
MR.MACRAME also known as Pete has always been interested in knitting, stitching and handmade crafts. With an obsession stemmed from his childhood, his grandparents owned an arts and crafts shop in Newcastle, UK.
From the depths of Covid he started his own little business handmaking macrame plant hangers which has turned from his hobby to his new line of work, taking on commissions, stockists and hosting Macrame workshops at St Kilda Artworks Collective.
Location: Artworks Studios, 37a Greeves Street, St Kilda.
Contact Mr.Macrame : https://www.facebook.com/MisterMacrame